Who Says Your Home Can't Be Tasteful & Fun?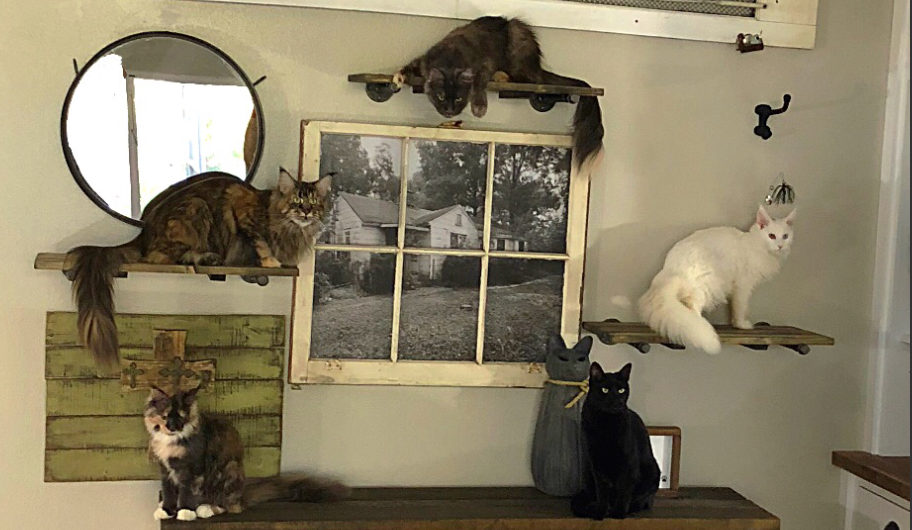 Our Life with Our Maine Coons
 Throughout the years, I often had one, two, or three Maine Coon Cats and the occasional litter of gorgeous Maine Coon Kittens. Because I worked full time as a pediatric ICU nurse and was raising my children, I did not have the time or the financial resource to devote to starting my own Maine Coon program. For years, my family encouraged me to pursue my dream and develop my own line of European Maine Coons. Finally, the kids were grown, the bills were paid, and I had the time and energy to chase my dream with Rick by my side. Hence, we are now a Certified Breeder with the CFA known as Salty Coons Cattery!
After months of research, we identified the best European Maine Coon Catteries to purchase our cats from.  We searched for the biggest, most extreme look, and  the healthiest cats we could find.  It took 2 years, but we did it!  Our Maine Coons come from Poland and several different breeders all over Russia.  All of our preferred breeders are recognized and respected world-wide.
My husband and I love our cats, as well as our kittens. We strive for Salty Coons Cattery to maintain a high level of excellence in cleanliness and humane treatment of our cats.  All of our cats live in our home, and enjoy hours of interaction and playtime with us.  Although this hobby involves a lot of work and expenses, it is totally worth our effort.  We feed our cats high quality, grain free food, and regularly have their health checked by our veterinarian.  Because of our dedication to breeding friendly, healthy, big, and ideal in type Maine Coons, you will receive a happy and healthy Maine Coon Kitten!
                                               IF OUR MAINE COONS ARE HAPPY, WE ARE HAPPY!!!